Two men loom large in my mind when I think of Devils Tower — Richard Dreyfus and Frank Sanders. Steven Spielburg's
Close Encounters of the Third Kind
was one of the hit movies that came out in 1977. (A little cult classic called
Star Wars
was another.) I watched it in the theater during some friend's birthday sleepover party and spent the rest of the
night
decade worrying that I'd be abducted by aliens. I clearly remember spreading out my sleeping bag under my friend's baby grand piano in hopes that it would offer a small measure of protection in the event of an extra-terrestrial visitation. Richard Dreyfus' character briefly encounters a UFO and is then strangely compelled to keep building models of an unusual, mountain-like image he sees in his mind. An iconic scene occurs at the dinner table when
he heaps mashed potatoes onto his plate as his puzzled family looks on
, then sculpts the mound with his fork.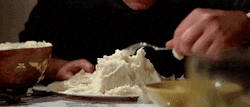 Credit: giphy.com
"This means something. This is important," he tells his wife and kids. They all think he's going bonkers. The movie culminates with the government, Dreyfus, and other civilians who have been having similar visions gathering at Devils Tower, Wyoming to meet up with dozens of UFOs and a massive mothership. This movie made such an impression on my young mind, and for years, you could freak me out by humming the signature five-note musical phrase from the movie. For a long time though, I thought Devils Tower was a fictional place in a sci-fi movie, as real as the Planet Tatooine.
Fast forward to a couple summers ago when I was plotting out the route for our
Great Big Western USA Roadtrip
. On the map between Mount Rushmore and Yellowstone National Park, I noticed the words "Devils Tower" just north of Interstate 90W. Suddenly, the notion seized me that I
had
to visit Devils Tower with as much power as it had drawn Dreyfus. I was excited to see the place that had
scared
fascinated me as a child.
Devils Tower is 867 feet (265 meters) from the base to the summit.
Devils Tower (note that there is
not
an apostrophe in the official name) is a geological wonder in the Black Hills of Wyoming that President Teddy Roosevelt designated as America's first national monument in 1906. Although most of the surrounding area is made of sedimentary rock, Devils Tower is made of igneous rock (hardened magma). Modern geologist don't completely agree on how the tower was formed. One theory is that it's the volcanic plug of an extinct volcano which eroded away in the prehistoric ages. Native American folklore has various legends about what they call
Bear Lodge
with the re-occurring theme that a giant bear repeatedly scraped its claws on the rock attempting to reach children who had escaped to the top of the massive rock. Looking at the hexagonal columns that run all the way up the tower, I can imagine how local tribes pictured it as a giant scratching post.
Or perhaps God made a giant pile of mashed potatoes and sculpted it with his fork?
As much of an impact as
Close Encounters of the Third Kind
had on me, encountering Frank Sanders, the 66-year-old proprietor of the Devils Tower Lodge, is what elevated my visit to Devils Tower to being one of the outstanding memories from our roadtrip. I initially booked a cabin at Devils Tower Lodge because I wanted something family friendly located close to this U.S. National Monument. The TripAdvisor reviews clearly indicated that the lodge was a haven for climbers, but we found it equally as welcoming to those who plan on staying closer to the ground.
Our cabin at Devils Tower Lodge within view of the tower.
We arrived after dinner as the light was beginning to fade from the area. As we checked in at the entrance gate of the park, I could hear the nightly outdoor showing of
Close Encounters
from the nearby
KOA campground
. The cabin itself was roomy and comfortable with two bedrooms, a sleeper sofa in the living room, a kitchenette, and a full bathroom with a view of Devils Tower from the shower and deck.
The dark night sky over Devils Tower (peeking just over the trees on the left third of this photo).
My first pleasant surprise was the breathtaking night sky. Having spent all my life living in either a city or the suburbs, I never fully understood the phrase "a blanket of stars" until we visited Acadia National Park less than a decade ago. Since that time, I've craved seeing a night sky like that. My hopes had been dashed by cloudcover when we'd visited other dark sky sites like Uluru/Ayers Rock. The sky over Devils Tower enraptured me. I swear that I saw a satellite, or perhaps it was the International Space Station, speeding across the sky above us, too high and too fast to be an aeroplane. I saw the Milky Way. I wished that that I had something better than a point-and-shoot camera to capture it all. Since our cabin was a distance away from the main lodge, I almost felt as if my family had this incredible sky all to ourselves. I wanted to stay up all night gazing upwards but finally convinced myself to get some sleep.
Dawn's early light spilling onto Devils Tower
I woke up at sunrise the next morning and left the rest of the family sleeping snug in their beds as I hopped in the minivan to explore Devils Tower National Monument. The sun's rays slowly crept across the side of the tower, and I drove around wanting to see it from all angles (as Richard Dreyfus had suggested). I spent most of the time in solitude, only seeing one other person off in the distance as I took in the way the morning greeted the tower. All the parking spaces by the park headquarters were empty. It truly seemed like it was just me and the tower.
After my family awoke, we headed over to the main lodge for breakfast. There were plenty of people gathered around the long, communal table with a window that looked out at Devils Tower. Most of them were either professional climbing guides who worked for Frank or climbing guests who were fueling up for the day. Some were experienced and others were newbies. Those hexagonal columns make Devils Tower one of North America's best crack climbing areas. Some cracks are just wide enough to squeeze in a few fingers, and others are wide enough for a climber's body. Watching the IMAX movie,
National Parks Adventure
, I remember one scene on Devils Tower where the climber presses outwards with both legs, nearly doing the splits, while clutching a rope to haul herself up the tower.
A few of the many climbers ascending Devil's Tower
Since he first climbed it in his 20's in 1972, Frank has climbed the Tower more than 2000 times. In 2008 when he was 56-years-old, Frank summitted Devils Tower 365 times. Because of illness or weather, he couldn't go out every single day, so he would double up on climbs on the good days. In his younger days, he set a record by climbing bottom to top 16 times in one day.
The walls of the lodge were covered in framed photos of the Tower autographed by the many people Frank and his guides had brought to the top. Whereas the Tower must surely be familiar to Frank and his team, they get to experience the wonder of discovering it the first time whenever they guide a climber to the top. They enable people to follow a dream and check an item off the bucket list. What an invigorating life that must be!
Tickling the piano keys with Frank at Devils Tower Lodge
My family were just some of the many guests staying at the lodge, but Frank made us feel special. I suspect he has the knack of making everyone feel that way. He has a way of talking that made me feel that we were not merely chatting. He
imparts knowledge
with his sonorous voice, and we were the fortunate recipients of the information. He speaks as if everything he says is part of a well-rehearsed, captivating TED talk. He comes across as a man with life lessons to share. He doesn't merely tell stories; he is part of the tradition of oral history. If there was ever a wise man on a mountain, that man would be Frank Sanders. I can't remember the specifics of what we spoke about, but I remember the sense that I had met a man who had discovered and was leading an intentional life of meaning. A life where every day was filled with pursuing his passion — climbing that mountain and sharing it with others.
When we picked up our cabin key the previous night, Frank inquired if any of us played the piano and invited us to play a tune after our morning meal. After breakfast, he listened as my daughter played a song on a piano surrounded by shelves and shelves of books. Then, Frank taught her a simple blues chord progression. She repeated it a few times, and he joined her in a duet by playing the melody.
Practicing bouldering skills
I mentioned that I had read he had an indoor rock climbing gym and asked if the kids could use it. Sure enough, he took us to it, turned on some Led Zeppelin, and told us that often times, there's not a direct route straight up the tower. Climbers have to know how to go sideways follow the path. Sounds like a good metaphor for living life.
Practicing balance on the slackline.
We next headed outdoors where Frank handed my kids a pair of ski poles and instructed them to hop up on the slackline. A slackline is like a tightrope except that it has more give and bounce, almost like a narrow trampoline. Practicing on one is supposed to improve climbing skills since it develops balance, coordination and core strength. You also have to learn to focus, much as you do when clinging to a mountainside. Maybe all that time on the slackline and Tower is why Frank seems so Zen and self-aware.
We checked out of the lodge, packed all suitcases and backpacks into the minivan and headed to the National Parks Service park headquarters and the trail around the base of Devils Tower. By this late morning hour, the crowds had already descended upon the park. The peacefulness I had experienced just after sunrise had completely evaporated. While the paved trail was rather easy and even, I was still surprised to see visitors dressed in flowing maxi dresses and flip-flops, as if they were headed to a day at the shopping mall instead of into nature. My kids and I peered up the sides of the tower, trying to identify anyone we had eaten breakfast with. There were so many groups climbing up, and they seemed so small that it was hard to distinguish who we knew. About an hour after we had arrived, we were on our way, heading westward towards the town of Cody, a gateway to Yellowstone National Park.
I'm not the only one to fall under the spell of Frank Sanders and Devils Tower. As I began to research this blog post, I came across so many references to him. A few weeks before our visit, the movie
Frank and the Tower
premiered at the 2015
5Points Adventure Film Festival.
He's been interviewed by
The Denver Post
,
Outside Magazine
, and
Climbing Magazine
as well as the PBS television series
Painting and Travel
. He even has a cameo appearance sitting by the lodge slackline on the
National Parks Adventure
IMAX movie.
Meeting Frank and staying at Devils Tower Lodge significantly impacted my fond memories of my family's visit to this park. It lent it a depth that I don't think I would have discovered milling around with the masses along the base trails and in the headquarter museum. I have Richard Dreyfus and Steven Spielburg to
blame
thank for making Devils Tower such a big part of my childhood memories. And I have Frank Sanders to thank for transforming it into one of my fondest travel memories in adulthood.
(In case if you were wondering, no UFOs were encountered by me on our visit. Thank goodness!)
IF YOU GO:
It's Your Turn, Link Up Your Newest Travel Inspiration
I've joined up as one of the co-hosts of
Weekend Travel Inspiration.
Link one of your inspirational travel photos or stories to this post by adding your info.
Copy and paste our badge and a link to this page.
Visit some of the other wonderful travel bloggers, read their posts, and leave a comment. It would be great if you could comment on 2-3 posts.
Tweet it and include this hashtag. #wkendtravelinspiration .
Follow all the hosts of Weekend Travel Inspiration who are working hard to spread the word on what wonderful work travel bloggers are doing.
Don't forget to check out my amazing co-hosts and their pages: Reflections Enroute, ContentedTraveller, Albom Adventures, Safari 254, and FamiliesGo.
I've also joined with the following linkups. Check them out for more around-the-world travel inspiration.